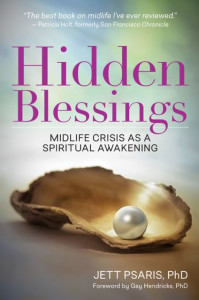 Hidden Blessings: Midlife Crisis as a Spiritual Awakening

Many words have been written about this period of life sometimes called middle age. What makes Hidden Blessings different is its unique blend of psychological and spiritual guidance to help us respond fully to the transformative invitation of midlife. That invitation is to step away from taking life literally – and, perhaps, superficially – to discover a deep and profound underlying existence.
The transformation that is possible during midlife is more than just a continuation of the developmental arc of the first half of our lives; midlife offers the possibility of metamorphosis into an entirely new life with a vaster perspective than we have enjoyed until now. The midlife passage invites the death of who we have known ourselves to be and promises the birth of our authentic, soul-infused self, long suppressed under years of outward obligations. The more we view midlife as a spiritual rebirth rather than something to get over or simply endure, the less likely we are to settle for trying to repackage what we have lived during the first half of our adult lives – and the more likely we are to discover the full range of the blessings that awaits us if we surrender to the challenging process of unraveling and being transformed.
Product Details
Paperback:278 pages
Publisher: Sacred River Press.; 1 edition (February 25, 2017)
Language: English
ISBN-10: 0998293520
ISBN-13: 978-0998293523
"The best book on midlife I've ever reviewed."
– Patricia Holt, former book review editor with the San Francisco Chronicle
Author Endorsements
"In the middle of our lives, there is a 'dark wood,' as Dante named it, where each of us must lose our way. The luckiest among us find a guide like Jett Psaris who offers not only an exquisite map, but a profound companionship along the way."
– Kim Rosen, author of Saved by a Poem: The Transformative Power of Words

"Many people spend half their life climbing the ladder of success, only to find that the ladder was leaning against the wrong wall. What then? Jett Psaris's Hidden Blessings will help anyone find purpose, meaning, and fulfillment in life's second half – the right ladder against the right wall."
–Larry Dossey, MD, author of Pray is Good Medicine and ONE MIND

"Jett Psaris has gifted us with a wise and sensitive book. Crafted from years of work and her own passage through midlife, this book offers guidance during times of great uncertainty. In a culture that rigorously clings to images of youth and strength, the midlife passage—riddled as it is with challenges, loss and confusion—can feel daunting. Hidden Blessings offers perspectives and practices that ripen our inner lives and prepares us to cross the thresholds into our wider and wilder sense of identity. Without formulaic prescriptions, Psaris invites us to do the hard work of meeting the ordeals of midlife, thereby allowing a deeper source of knowing to come forward and shape our emerging lives.
This is a generous book, suffused with wisdom and an unmistakable kindness that touches the soul. This will be a gift to many."
–Francis Weller, author of The Wild Edge of Sorrow