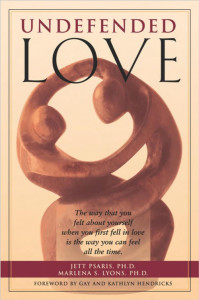 Undefended Love – The Book
Connecting with the person you love isn't just about having a companion, or forming a close partnership. Most of us hope for a truly intimate relationship, where the connection between us is direct, unmediated, and heart-to-heart. This book offers a challenging new way for readers to reach just such a higher level inside themselves, where they can experience a relationship that is fresh and unrehearsed.

Now available on Kindle – Click Here
Marlena Lyons and Jett Psaris show readers that the capacity exists in all of us to love without defenses or qualifications, and to know ourselves so deeply that real intimacy becomes a lifelong expression of our deepest nature.
This is the power of undefended love. "Undefended Love" maps a unique journey that turns the problems and conflicts that inevitably arise in relationships into opportunities for deeper connection. Illuminating case studies, guided self-inquiries, and challenging exercises help readers discover how to engage their partner in a deeper dialogue and find ways of expressing the most profound and untamed aspects of their nature.
Product Details
Paperback: 176 pages
Publisher: New Harbinger Publications, Inc.; 1st edition (October 30, 2000)
Language: English
ISBN-10: 1572242086
ISBN-13: 978-1572242081
Product Dimensions: 9 x 6.2 x 0.5 inches
TRANSLATIONS
Click cover image to purchase.

Nautilus Award Nominee
Nominated as a finalist for the NAPRA's prestigious Nautilus Award in the category of "psychology and consciousness." The Nautilus Awards recognize books which have made a distinguished contribution to conscious living and positive social change.
Author Endorsements
"This beautifully written work is a stunning breakthrough in the field of books on relationship. Its vision of direct, unmediated love could not be more original."
~ Patricia Holt, former Book Review Editor, San Francisco Chronicle
"This is a remarkable book. It is full of warmth and humanity, while also being a wise and insightful work that is obviously the product of real-world experience in healing broken relationships. It is one of those rare books that can actually change lives."
~ Don Richard Riso & Russ Hudson, The Wisdom of the Enneagram