Undefended Love: When Close is Not Close Enough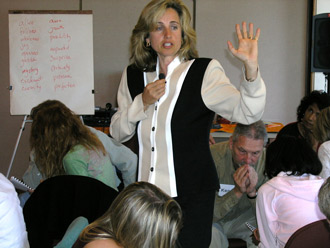 Open to Everyone (with or without partners, in a relationship or single)
Facilitator: Jett Psaris
October 20th & 21st, 2018 (Berkeley, CA)
Online Registration will open late July 2018
The capacity exists in all of us to love without defenses or requirements, so that real intimacy-direct, unmediated, heart-to-heart connection with ourselves and with our partner-becomes a lifelong expression of our deepest nature.
This is the power of Undefended Love, a transformative path that guides us beyond close, companion-based partnerships toward intimate relationships, where each moment is a fresh, spontaneous expression of who we genuinely are.
This workshop, open to couples and individuals, offers a vision to cut through personal differences and reach the direct connection-with ourselves and others-that can only occur when the heart is undefended. The focus is on shifting our center of gravity away from our conditioned personality (the places where we feel stuck, confused, hurt, and defensive) toward our essential self (the part of us that is free, whole, connected, peaceful, powerful, and joyful).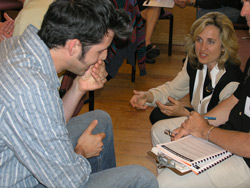 Through lively experiential practices, participants will learn:
What unconditional love really is and how to achieve it
How to sustain our experience of ourselves regardless of what our partner is feeling
How to "dissolve" rather than "resolve" relationship problems
When "needs" can be unexpected guides to undiscovered inner resources
How problems can be entry points to deeper connection
Why there is no difference between men and women when it comes to intimate loving
How comfort and safety can prevent rather than promote intimacy
Recommended Reading: Psaris & Lyons, Undefended Love.
Location:
This non-residential, weekend intensive will be held in a new location for our workshops, a former church which has now become a learning center: The Sacred Stream Center, 2149 Byron Street, Berkeley, CA.
Hours for the intensives
On the Sat. morning of the intensive, please plan to arrive at 9:45 for registration.
The intensive will take place on Saturday and Sunday, 10 am – 6 pm.
TERMS OF AGREEMENT

Attendance:
If you cannot attend the entire workshop [i.e. arrive on time and stay throughout the weekend to its close on Sunday evening], please do not register at this time. These intensives are designed in such a way that late arrivals or early departures affect the work both for the person unable to attend the entire weekend as well as for the other participants in the course.
I will arrive on time and stay through the entire course.
Saturday Night: The course is rigorous so please plan to rest quietly on Saturday evening if at all possible. Saturday night will be your time to rest, integrate the material from the first day of the course and prepare yourself to continue the exploration on Sunday.
Cancellation and Refund Policy:
If a request for cancellation is received in writing 30 days or more before your course start date, the course fee is fully refundable. If written request for cancellation is received in writing less than 30 days before your course start date, $100 is non-refundable, regardless of the reason for withdrawal. If a written request for cancellation is received in writing 7 days or less before the course start date, $200 is non-refundable, regardless of the reason for withdrawal.
I have read and agree to the cancellation and refund policy.
Lunch, Snacks, Water Bottle, Journal and Pen!
Only water is allowed in the group room so bring a water bottle. You will need a journal and pen as well. There will be an hour break for lunch but there are very few options in the area to purchase lunch so bring your lunch and any sustaining snacks you will need with you!
I will remember to bring my lunch, snacks, water bottle, journal and pen!
Fee for the intensive:
Early Registration (by September 1st): $425 per person
Regular Registration (After September 2nd): $475 per person
"The seminar was a Hemingway experience: 'The earth moved.' It was a most profound and moving experience. I was able to get in touch with a whole side of myself that I didn't know was there and now afterwards, it just keeps revealing itself more and more. My work now is to make it all an integral part of me."
Ann Gaviria, Bogota,Colombia
"I feel like I 'rubbed noses' with so many other beautiful beings throughout the weekend. However fleeting these relationships might have been, they felt powerful… and empowering. So many kind, open and honestly searching souls (as opposed to helpless folks desperately seeking fast answers and quick fixes)!"
Dr. Adrian Bartron
"I've taken workshops all over the world and this was, simply put, the most transformative experience of my life."
Kim Li-Chang
"When I take other workshops I get to learn the material the teacher is presenting. When I take a workshop with you, I get to know my-Self."
Chris Zimmerman
"The metaphors and language you use are so loving, inspiring, and paradigm shattering all at the same time! I feel like I was immersed in a new life force during the retreat and that my heart is beating in a new rhythm now as I move back into my life."
Xavier L
"I'm not sure that I have words big enough to express my gratitude for this beautiful work."
Nicole Boxer-Smith
"I am deeply moved by the work I experienced this weekend on intimacy… It has facilitated a new inner strength that I cannot fully describe. What I can say is that I feel lighter, my neck and lower back free from the weight of my previous defense of holding myself rigid to protect from the fear of connection and uncertainty. Through this new inquiry about vulnerability and flexibility, I have accessed a deeper connection to my essence which I now somatically feel in my body. Thank you so much!"
Mike Thomas